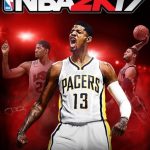 ---
Paul George will be the Cover Star of NBA 2K17
Paul George, three-time NBA all-star, will be featured on the cover of NBA 2K17. It was announced by 2K Sports during the NBA 2K16 Road to the Finals gaming event. In this event team The Drewkerbockers won the first place and divided a $250,000 prize with another team, GFGeSports, who won a second place.
NBA 2K16 had 3 cover stars last year. It featured: Stephen Curry, Anthony Davis and James Harden. This will be the first time when Paul George will be on the main cover of NBA 2K game. However, Indiana Pacers forward was once featured on the digital cover of the NBA 2K companion app.
Paul George is not the only athlete who will be featured on NBA 2K17 cover. 2K Sports also decided to feature NBA legend Kobe Bryant on the NBA 2K17 "Legend Edition." This special edition will cost $80 and will have some digital and physical items added. Physical items will include two Kobe Panini trading cards, limited-edition Kobe poster and Black Mamba game controller skin. While digital content for the NBA 2K17 Legend Edition will include: Nike Kobe 11 retirement shoes, Kobe hoodie and many more. You can find the list of all items of the NBA 2k17 Legend Edition here.
The official NBA 2K17 release date is planned in September, 2016. It will be available for Xbox One, Xbox 360, PlayStation 4, PlayStation 3 and PC.