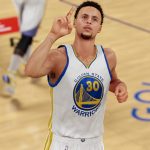 ---
Most Wanted NBA 2K17 Features
NBA 2K16 is a simply amazing basketball simulation video game. However, there is still some place for improvement no matter how good the game is. So NBA 2K fans often share their ideas how the game could be improved and what they would like to see in the upcoming NBA 2K17. Today we will share some of the ideas with you.
Quick 99 button. This button will let you to create new player with just one click. That would definitely save some time while playing NBA 2k17.
Tattoos and improved body type. That might sound unusual but it would be really cool to put this thing in customization that is in MyCareer.
More Classic Teams. Players of NBA always liked to play with the legendary teams. There are always more great teams to include in NBA 2K17. 2K has already added some of them but players would really like to have more, like 05 Spurs and other legendary teams. Game developers should also include "Legend Pool".
Bringing out players true potential. 2K could add a potential slider with statistics and help to reach players true potential. For example, Zach Lavine's initial potential shown in the game is 80 while his actual ceiling is around 90.
New options for My Court. This feature is really great but 2K developers could create more options for players. For example, let players choose to play 1v2, 2v1, 3v2, 5v0 and more. More ways to customize My Court would add more excitement to NBA 2K17.
Teams for each city. It would be amazing to have a set of teams for each city in NBA 2K17. The teams would have specially designed uniforms, logos, their unique history and the name, regarding to the city. For example, St. Louis would have Spirits, Seattle – Supersonics and many more. Also, a customization option for logos or choosing colors would be nice.
Online MyGM modes. NBA 2K17 could have full online MyGM mode, draft mode, full agency and many more. It is even more exciting to play game online sometimes!
Better Game Tutorial. 2K developers could add more options to game tutorial for learning and improving player's skills. That kind of improved tutorial could also have statistics of performance. That would be really helpful for new players and those, who have been playing NBA 2k games for ages.
Pre-game stories. It is always interesting to learn something new about the legends or a team, seeing players in their dressing room, talking to each other and many more. NBA 2k17 fans would appreciate to see how the players are getting ready for the match in the locker room.
Interviews after game. 2K developers could include interviews with the players after the match to show how they are reacting depending on their personality or to see the reaction after losing a match.
Adding players' conversations. It would be really entertaining to hear what players say to each other in NBA 2k17.
Spectacular introductions in Final. Dramatic introductions would give an impression of something special in the Finals. So the finals would be a lot more different than other matches.
Inactive players attending matches. In NBA games we have audience, cheering crowds and line of team sitting on the bench. It would be nice to have players who are not attending the match sitting on the bench as well. They could be dressed in suits in NBA 2k17.
Adding Towel/Water Boy. It would be nice to have towel/water boy in NBA 2k17 who could bring water and towels to the players just like in the real games.
Have something to add? Comment below!