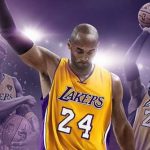 ---
You Can Play NBA 2K17 Four Days Early and Here's How
Some good news from the 2K Sports team – they are bringing back the "Early Tip-Off Weekend" promotion. "Early Tip-Off Weekend" allows you to play NBA 2K17 four days early but you need to preorder first. It was also announced previously that Paul George will be the cover star for NBA 2K17.
The official NBA 2K17 release date is planned on September 20, 2016. But those NBA game fans who preorder the NBA 2K16 will get their copy 4 days early. They will also get special digital items which include: 5 000 digital currency, MyTeam Bundle (it comes with 4 packs and Paul George card) and many more goods that are going to be revealed in the near future.
2K Sports also informed that there will be a premium version of NBA 2K17 Kobe Bryant Legend Edition. This edition will cost $100, while you can buy the regular edition for $80. The Gold edition will come with special items which include: two additional MyTeam packs (with MJ Free Agent card), 70 000 supplementary virtual currency (that means you will have 100 000 in total), Nike Kobe shoe collection and Special Kobe lenticular cover insert.
All NBA 2K game fans are still waiting for the images or videos of the upcoming NBA 2K17 to be announced as 2K Sports still have not revealed any of these. Surely, we will let you know as soon as we get more information about your favorite NBA 2K game.