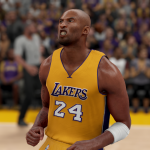 ---
Kobe Bryant Will Feature NBA 2K17 Legend Edition
Kobe Bryant will feature NBA 2K17 Legend Edition as a cover athlete, 2K Sports announced. Special edition to celebrate Kobe Bryant amazing career is available for pre-order now. This NBA 2K27 Legend Edition is now available for PS4 and Xbox One.
Kobe Bryant himself values this opportunity as an honor: "It's a great honor to partner with 2K on the NBA 2K17 Legend Edition. As I walk off the NBA court for the final time, it's exciting to know my fans can continue to celebrate my lifelong career as a Los Angeles Laker."
NBA 2k17 physical Legend Edition will include limited edition Kobe Bryant poster, Black Mamba controller skin and 2 panini Kobe trading cards. NBA 2K17 Digital Legend Edition will include 30 000 virtual currency, MyTeam Bundle (including 3packs with guaranteed Kobe free agent card), 2K Kobe XI shoe, Kobe #8 Mitchell, Ness Jersey – Kobe Hoodie and lots of more amazing stuff.
Interested? Pre-order Kobe Bryant legend edition here. NBA 2K17 is expected to be released in September 2016 but on Amazon it is shown on December 30 of 2016.