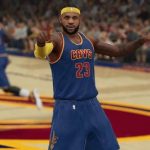 ---
NBA 2k17 Star will Appear in WWE Game?
Shaquille O'Neal, NBA Superstar, might appear in WWE 2k17 as a guest star. Famous basketball player already made an unexpected appearance in WWE WrestleMania 32 to impede the Andre in the Giant Battle Royal.
Predictions about Shaquille O'Neal appearing in the NBA 2K17 were encouraged by NBA community manager Chris Manning. He asked his Tweeter fans what Shaquille O'Neal rating should be in WWE game. Shaq is a big WWE fan so we might really see him appearing in WWE 2k17.
As many fans thought it was a joke, there is still possibility that it could be true. Firstly, it was done before and secondly, 2K games share same resources. Arnold Schwarzenegger was also included in WWE game as a pre-order bonus.
Do you think Shaquille O'Neal will appear in WWE 2k17? Tell us your opinion in comments.