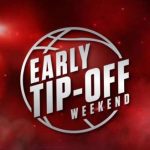 ---
NBA 2K17 Available Now If You Preordered
NBA 2K17's official release date isn't until September 20, but you can start playing the professional basketball game right now if you preordered.
The "early tip-off" promotion, as it's called, lets anyone who preordered, or preorders today, start playing the game now ahead of its release next week. This is for all versions of the game, including the base edition ($60), the Kobe Bryant Legend Edition ($80) and the Kobe Bryant Legend Edition Gold ($100).
If you don't want to preorder, you can still play a portion of NBA 2K17 right now. The game's free Prelude app is available now, letting you create a character for the MyCareer mode.
In other news about NBA 2K17, the game's epic Momentous trailer was released this week, showing off the joyous highs and painful lows of professional basketball.
NBA 2K17 launches on September 20 for PlayStation 4, Xbox One, PlayStation 3, Xbox 360, and PC. The game features three-time NBA All-Star Indiana Pacers guard Paul George on its cover.